vfw 8071 POST building project
After 75 years of providing services to Veterans and the local community, VFW Post #8071 has embarked on a project to build a Veteran and Community Service Center. In support of this project Post members have purchased a building lot in Virginia City and are moving forward with the design and engineering phase of the project.
This multiuse facility will serve as our business office, a Veteran service center, a meeting hall, and a community building. Most importantly the new building will establish a location for Veterans and community members to seek assistance and support. Moving forward with plans to expand our Veteran outreach the Post has an agreement with Nevada Office of Veteran Services to provide professional staff at our new location.
It is our goal to have a building that will further the VFW mission and proudly display the overwhelming public support for the Veteran community in Northern Nevada. This will be the first ever Veteran center in Virginia City.
The building will be dedicated to the memory and honor of Staff Sergeant Bryan E. Bolander, US Army. On April 29th, 2008, Staff Sergeant Bolander was tragically killed in action while serving in Iraq. This young Soldier was near the end of his fourth tour and looking forward to coming home to get married at the time of his death. Only 26 years old he left behind his son, Tyler, and his fiancé, Sandra. His proud parents are residents of Virginia City.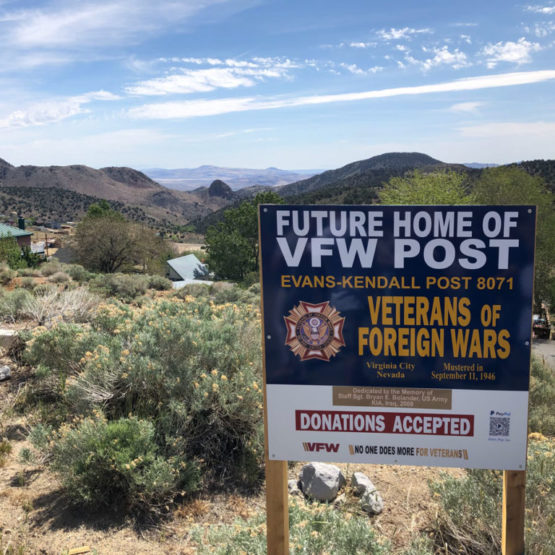 We are soliciting your help with this project. Whether a cash grant, materials or construction support, your donation will go a long way toward helping us meet our goal. Donations to VFW Post 8071 are tax deductible charitable contributions.
Several Northern Nevada businesses have already made cash donations and offers of professional support. This is an opportunity for you or your business to join our growing list of donors who are stepping up to help us with a project that will have a positive and enduring impact on the Virginia City and Storey County Veterans, families, and the community.
Donor names will be permanently displayed in the new facility. We have several levels of donor recognition, as well as opportunities for major contributors to sponsor portions of the building.
Please contact our Building Committee Chairman to donate or request additional information.
John Strahan
(775) 636-2082
john.strahan@outlook.com